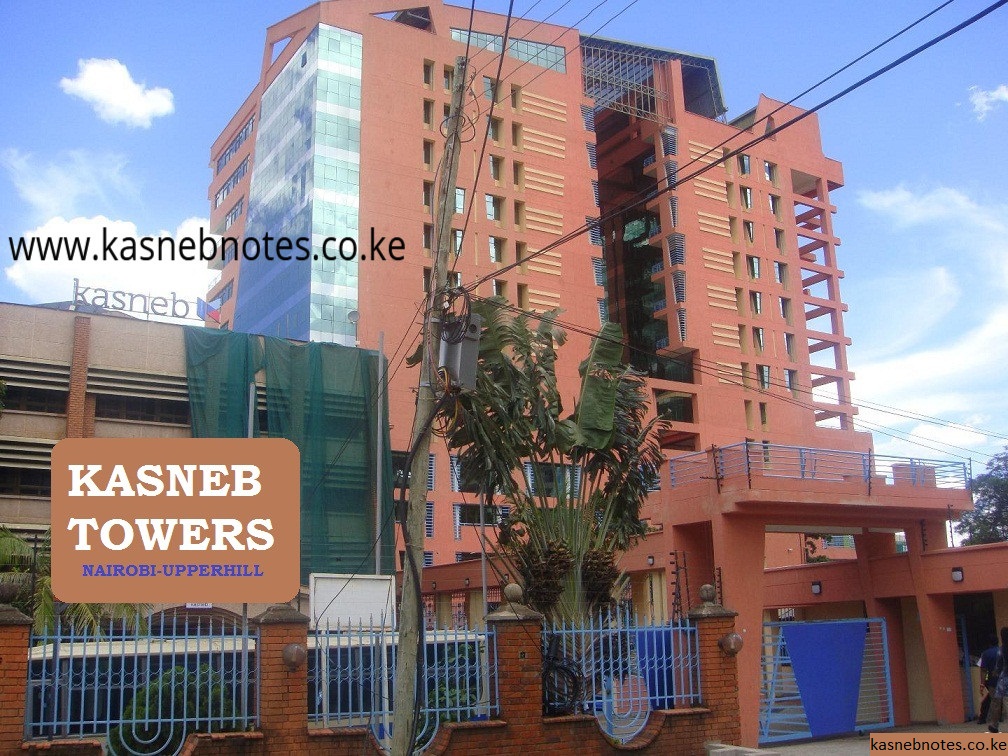 KASNEB Offices, Contact Phone numbers, Official facebook page and official twitter handle
KASNEB HEAD OFFICE
KASNEB Head Office is located in Nairobi, Upperhill. kasneb Towers, Off Hospital Road
P.O. Box 41362 00100
Nairobi, Kenya
Tel: 020 2712640, 020 2712828
ISDN: 020 4923000
Email: info@kasneb.or.ke  ,   Complaints@kasneb.or.ke
KASNEB Facebook page: KASNEBOfficial
KASNEB Twitter handle: @KASNEBOfficial
From the Nairobi CBD, you can get to KASNEB office boarding bus number 7c at Kencom stage or all buses that go to Kenyatta National Hospital
Town that has Huduma centres with KASNEB Counters
KASNEB HUDUMA CENTERS COUNTERS
KASNEB also has kasneb counters in the following Huduma centers across the country, Most of the services that are offered at kasneb head office are also accessible at their huduma counters.
At the centers, there is a dedicated counter that deals with KASNEB issues from 8:00 am to 5;00 pm. The KASNEB phone contacts in these centers belong to the representatives sent from the head office.
The huduma KASNEB centers are:
NYERI HUDUMA CENTRE
People from central province no longer have to travel to Nairobi to access KASNEB services. Nyeri is one of the centers that serve individuals in the central province and its surrounding. Nyeri center contacts are provided below;
Mobile numbers: 0701698213 / 0737256315
Email address: akimani@kasneb.or.ke
GPO, NAIROBI HUDUNA CENTRE
Residents of Nairobi have benefitted from the introduction of another center in the city through the Huduma center office. This one is located within the central business district (CBD) and is open beyond the 5:00 pm when other offices close. Services here are swift and suitable for those individuals who are in a hurry.
The GPO center contacts are as follows:
Mobile contacts: 0701699013 / 0737315992
Email address: cmakutwa@KASNEB.or.ke
KISUMU HUDUMA CENTRE
Kisumu region can access KASNEB services at the Huduma Center in the town. The center serves surrounding towns within the region. Contacts for the Kisumu center are as follows:
Mobile numbers: 0701699026 / 0737492586
Email address: cokomo@asneb.or.ke
MOMBASA HUDUMA CENTRE
Mombasa is yet another city where KASNEB services have been brought close to the inhabitants through the Huduma Centers initiative. The center offers services to people from the entire coast region. For those wishing to get in touch with the center their contacts are below.
Mobile numbers: 0701699078 / 0737516847
Email address: ewere@kasneb.or.ke
KISII HUDUMA CENTRE
The Kisii Huduma center joins Kisumu as one of the few in the Nyanza region of Kenya. The center serves people from Kisii, Nyamira and others from as far as Migori County. To get in touch with the center one can use one of the contacts below:
Mobile numbers: 0701711465 / 0737543023
Email address: emasese@kasneb.or.ke
ELDORET HUDUMA CENTRE
Eldoret town crown the list of towns with Huduma Centers. The center is meant to offer KASNEB services to residents of Rift Valley. The contacts for Eldoret center include:
Mobile numbers: 0701713366 / 0737831524
Email address: trotich@kasneb.or.ke
NAKURU HUDUMA CENTRE
Nakuru is the fourth-largest city in Kenya after Nairobi, Mombasa and Kisumu. It is the capital of Nakuru County, Residents on this region are able to access kasneb services at the huduma centre in this town. Contacts on this counter are:
Mobile numbers: 0795431440, 0735031908
Email address: mlangat@kasneb.or.ke