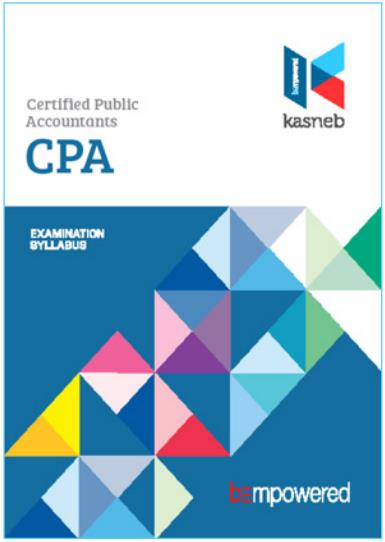 Download New Revised CPA pdf Notes
CPA Foundation Level Notes
CPA Intermediate Level Notes
CPA Advanced Level notes
Specialization (One paper)
CA34S4 Advanced Public Financial Management – Click to Open
PREVIOUS SYLLABUS
Certified Public Accountants (CPA)
Download Revised Edition of KASNEB CPA notes for Section 1, Section 2, Section 3, Section 4, Section 5 and 6. These are updated CPA notes in pdf format, free past papers also provided.
Below are the download links for these CPA notes and past papers
Kasneb currently administers five professional courses. The professional courses are administered at Foundation, Intermediate and Advanced levels. Each level requires an average of one year, though candidates are advised to provide for an additional one year to meet requirements for internship/practical experience.
Course Overview
Certified Public Accountants are skilled and competent professional accountants, auditors, finance managers, tax consultants and practitioners both in public and in private sectors.
Entry Qualifications
A person seeking to be registered as a student for any of the professional examinations must show evidence of being a holder of one of the following minimum qualifications:
Kenya Certificate of Secondary Education (KCSE) examination with an aggregate average of at least grade C+ (C plus) or its equivalent.
Kenya Advanced Certificate of Education (KACE) with at least TWO Principal passes provided that the applicant has credits in Mathematics and English at Kenya Certificate of Education (KCE) level or equivalent qualifications.
KASNEB technician, diploma or professional examination certificate.
A degree from a recognized university.
International General Certificate of Secondary Education (IGCSE) examination grade C in 6 papers with C in both English and Mathematics.
Such other certificates or diplomas as may be approved KASNEB.
PART I
Section 1
Section 2    

Paper No:
PART II
Section 3
Paper No:
Section 4
Paper No:
PART III
Section 5
Section 6
Paper No:
CPA Revision kits also available in the link below
Certified Public Accountants are skilled and competent professional accountants, auditors, finance managers, tax consultants and practitioners both in public and private sectors