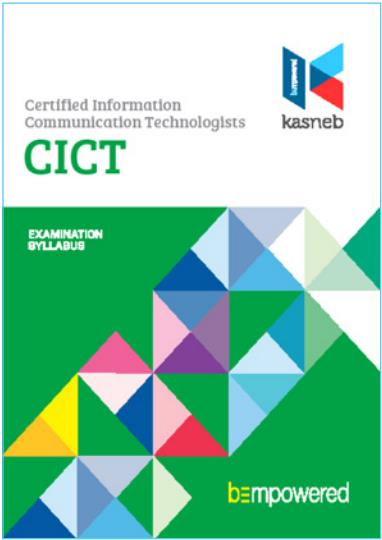 Certified Information Communication Technologists (CICT)
PART I
Section 1
Paper No:
CT11  Introduction to Computing
CT12 Computer Applications – Practical
Section 2
Paper No:
CT21 Operating Systems – Practical
CT22  Principles of Accounting
CT23  Computer Support and Maintenance
PART II
Section 3     
Paper No:
CT31  Database Systems
CT32 Systems Analysis and Design
CT33  Structured Programming
Section 4
Paper No:
CT41  Object Oriented Programming
CT42  Web Design and e-Commerce
CT43  Data Communication and Computer Networks – Practical
PART III
Section 5
Paper No:
CT51  Strategy, Governance and Ethics
CT52  Software Engineering
CT53  Mobile Application Development
Section 6
Paper No:
CT61  Systems Security
CT62  Information Systems Project Management
CT63  Research Methods
ICT Project
CICT candidates are required to undertake an ICT project after successfully completing the above 18 papers. The project must commence within 12 months after completing the papers.
Certified Information Communication Technologists are skilled and competent system developers and programmers, network administrators, system engineers, ICT consultants and practitioners.
NB: Common papers in bold